Panasonic Digital Camera / VTR AJ-PD900WP

USED, BUT IN PERFECT WORKING CONDITION. THERE ARE SOME SCRATCHES ON THE CASE.

NTSC version

. Lens and viewfinder are not included. Only main unit is being sold.

The hour meters:

Drum run: 150 hours

Operation time: 230 hours

Threading: 910 hours

The AJ-PD900W combines a color video camera, which features a 520,000-pixel high-sensitivity M-FIT 3-CCD configuration and an on-chip lens, with a DVCPRO format VTR which in turn features the latest compression technology in a single unit.

In addition to the existing interlace signals (525i), progressive signals (525P) can also be recorded. Either 16:9 or 4:3 can be selected as the screen aspect ratio, and the rate at which the signals are recorded onto the VTR tape can be set to 50 Mbps for a higher picture quality or 25 Mbps for longer recording duration. (Six recording modes are available for selection.) The AJ-PD900W is compact and light weight with low power consumption, and realizes the optimal functions and performance for an electronic news gathering (ENG) VTR-integrated camera such as high picture quality and sensitivity, mobility, dustproofing and dampproofing, etc. In addition, both the camera section and the VTR employ a digital signal processing system which

further improves picture quality and realizes a system for controlling setting menu and subject data by using world standard memory cards.

Features of the Camera Section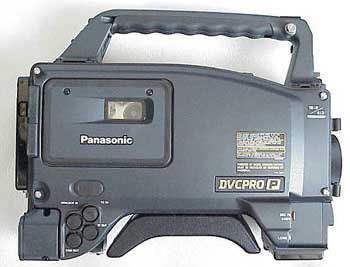 The camera section of the AJ-PD900W has the following features.
High sensitivity: 2000 lux (F8)
High S/N ratio: 60 dB
Ultra-low smear
Ultra-low flare
Digital signal processing
Signal processing is digitized by a 36 MHz (typ.) 10-bit AD/DA converter. This improves picture quality, stability and reliability, and allows the viewfinder screen displays as well as numerous adjustment and setup items to be converted to menus.
Setting menu
The setting menu is displayed on the viewfinder screen, and controls the status displays, messages, marker displays, etc. Whether or not to display each item, as well as the display conditions when items are to be displayed, can be selected according to the user's convenience. For example, display ON/OFF for the ! lamp display which informs the user that the unit has entered irregular status can be selected for 6 different conditions. The setting menu is also used to select various settings and functions and execute memory card operations, etc.
Setup cards
Setting menu and subject data can be stored on SRAM memory cards with a capacity of 64 kilobytes or greater which conform to PCMCIA standard ratings as setup cards. Stored data can be saved individually or according to the shooting conditions, allowing the same setup conditions to be easily reproduced and assisting in standardizing setup conditions between individual data.
High-function electronic shutter
Using the built-in electronic shutter achieves steady images even of quickly moving subjects. In addition, the following special operation modes can also be selected.
Synchro scan mode: This mode is suited for shooting personal computer and workstation monitor screens, and provides images with little horizontal stripe noise.
Wide range of video gain selections
Gain values can be selected from p3 dB to o30 dB using the setting menu and the GAIN switch. The high S/N ratio allows images with little noise to be obtained even when the gain is increased for shooting in dark locations. Using the SUPER GAIN switch provided specially to implement the super gain function, the video gain can be set to 30 dB.
Automatic adjustment and memory functions for black balance/white balance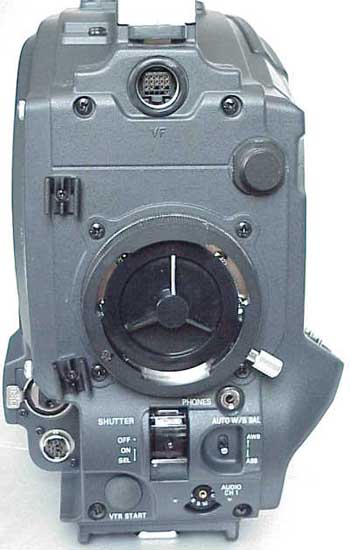 The black set, black balance and white balance can be automatically adjusted by simple switch operations. Adjustment values are held in the memory even if the power for the unit is turned off, so there is no need to readjust the balance each time the power is turned on. There are two memory systems for white balance which can hold four adjustment values each for the CC and ND filters, making a total of eight adjustment values. When adjustment values
matching the illumination conditions are selected from among the values stored in the memory, the unit is automatically adjusted to the corresponding white balance. (A menu setting also allows adjustment of only two values instead of the values for each filter.) In addition, when the unit is shipped from the factory, the white balance value for 3200K is stored in the memory as a preset value. This value can be called when there is no time to adjust the white balance, etc.
Character display function
The unit is equipped with a function that displays switch settings, the automatic adjustment status for black balance and white balance, warning displays, etc. on the viewfinder screen. In addition, when using an Anton Bauer Digital Magnum series battery as the unit's power supply, the remaining battery level can be displayed numerically on the viewfinder screen.
Warning system for displaying the VTR section status
The unit informs of VTR trouble, the end of the tape, battery wear, etc. with various warning lamps and a warning tone. The remaining tape time can also be checked by the character display inside the viewfinder.
Four filter disks as standard equipment
CC (color temperature conversion) and ND (neutral density) filters are provided as standard equipment. This allows the optimal filter setting to be selected from among four combinations in accordance with the brightness of the subject.
Fine adjustment of the automatic iris reference value
The reference value for automatic iris adjustment can be finely adjusted by setting menu operations.
Auto close function
The unit is equipped with an auto close function which automatically closes the lens in the following cases.
When the black balance is automatically adjusted.
When the power is turned off in the auto iris mode.
Generation of SMPTE/SNG color bar and reference audio signals
The camera section contains a circuit which generates an SMPTE type color bar signal to facilitate color monitor adjustments, and a circuit which generates a reference level audio signal to facilitate audio level adjustments. The unit also contains a circuit for generating SNG color bar signals which come in handy for sending signals to communication satellites.
Functions and circuits for assuring high picture quality
The AJ-PD900W is equipped with the following functions (and circuits) in order to assure high picture quality and is designed to make the fullest use of the advantages of the high-performance CCD.
A built-in AUTO KNEE circuit achieves a wide dynamic range which allows large signals to pass through.
A built-in 2-line image enhancer
A built-in shading compensation function for use with a lens extender
A built-in sawtooth wave generator for adjustments
A zebra pattern ON/OFF selector switch which selects three types of zebra patterns including spot zebra from two levels of zebra patterns.
Audio functions
A phantom power supply type super-cardioid microphone (option) can be attached and it can also be detached from the main unit for use in interviews.
Microphone can also be connected, and can be attached to the main unit using the AJ-MH700P microphone holder (option).
The audio CH1 recording level can be easily adjusted at the front panel of the unit.
Recording by an external VTR
When an external VTR is connected using the 26-pin/12-pin output adaptor (option, AJ-YA900P), recording can be performed by the external VTR instead of the internal VTR.
Remote control
Connecting the Extension Control Unit (option, AQ-EC1) allows a portion of the camera section functions to be operated by remote control.
Features of the VTR section
Digital system
The VTR section features a component digital recording system that employs the latest compression technology and non-compressed PCM recording for audio. This system provides superior S/N, frequency band and waveform characteristics as well as reproduction of detailed areas,
etc., and realizes even higher picture and sound quality. One of the following 6 modes can be selected for conducting recording and playback: 16:9P
(50 Mbps), 4:3P (50 Mbps), 16:9i (50 Mbps), 4:3i (50 Mbps), 16:9i (25 Mbps), 4:3i (25 Mbps).
Rec review function
This function automatically rewinds the tape and plays back the last two seconds recorded, allowing recorded contents to be quickly checked.
Playback function
Playback pictures (black-and-white pictures) can be seen on the viewfinder screen. In addition, color playback pictures can be seen on a color monitor connected to the VIDEO OUT connector on the main unit.
Built-in time code generator/reader
Time code information can be recorded and played back on a dedicated subcode track.
Locking of the time code to an external source
The built-in time code generator can be locked to an external generator. Also, the built-in time code generator uses a lithium battery as its back-up power supply, allowing time codes to be backed up for approximately one year even if power is not supplied to the unit.
Built-in DOLBY NR System
A Dolby B Noise Reduction System is built in for audio recording in the longitudinal direction.
Successive shooting
Images can be shot successively within an accuracy of 0–o1 frame simply by pressing the VTR START button or the lens VTR button.
SPECIFICATIONS
Camera Section

2/3-inch on-chip M-FIT type of CCD

System:

RGB 3-CCD system

Picture elements:

520,000 pixel

Spectral system:

F1.4 prism system

Built-in filters:

1; 3200K

2; 5600K

o1/4 ND

3; 5600K

4; 5600K

o1/16 ND

Quantization:

10-bit A/D (R, G and B channels), 36 MHz

Digital signal processing:

16-bit long operation, 36 MHz

Horizontal drive frequency:

18.0 MHz

Programmable gains:

3 positions can be set from among p3, 0, 3, 6, 9, 12, 15, 18,

21, 24 and 30 dB.

Super gain: 30 dB

Shutter speeds: 1/100, 1/120, 1/250, 1/500 and 1/1000 sec.

Synchro scan mode; 1/63.2–1/201.9 sec.

Lens mount: 2/3

½ Bayonet type

Sensitivity:

F8 (2000 lux, 89.9% reflection)

Minimum subject brightness:

2 lux (F1.4, o30 dB)

Image S/N ratio:

60 dB (typ.)

Horizontal resolution:

700 lines (center, typ.)

Vertical resolution:

450 lines

Sampling frequency:

36 MHz

Registration:

Below 0.05% (entire range) (excld. lens)

VTR Section

VTR Video System (during playback on a standard playback unit)

Y; 30 Hz to 5.75 MHzo1.0 dB/p3.0 dB

PB, PR; 30 Hz to 2.75 MHz

o1.0 dB/p3.0 dB

S/N ratio:

Better than 55 dB

K factor (2T pulse):

Within 2%

Y/C delay:

Within 20 ns

VTR Audio System

(during playback on a standard playback unit)

Sampling frequency:

48 kHz (synchronized to video)

Quantization:

16-bits/sample

Frequency response:

20 Hz to 20 kHzt1.0 dB (at the reference level on MIC

LOWCUT OFF status of the Setting Menu)

Dynamic range: 85 dB or more (at 1 kHz, AWTD)

Distortion: Within 0.1% (at 1 kHz, reference level)

Wow/flutter: Below measurable limit

Head room: 20 dB

Emphasis: T1

r50 Øs, T2r15 Øs (can be turned ON/OFF)

VTR Tape Running System

Tape used:

DVCPRO format 1/4-inch M-size cassette tape

Tape speed:

67.640 mm/s (50 Mbps)

33.820 mm/s (25 Mbps)

Recording/playback time: Approx. 33 min. (50 Mbps, using the AJ-P66MP)

Approx. 66 min. (25 Mbps, using the AJ-P66MP)

FF/REW time: Approx. 3 min. (using the AJ-P66MP)

Connectors

Input

AUDIO IN CH1/CH2

(XLR·2, 3-pin, female): MIC/LINE switchable, balanced, more than 10 kohm

MIC; Menu setting to

p60/p50/p40 dBu,

LINE; Menu setting to

p6/0/o4 dBu

MIC IN (XLR, 3-pin, female):

Phantom o48 V, p60 dB, balanced, 3 kohm

Menu setting to

p60/p50/p40 dBu

GENLOCK IN (BNC)

1.0 Vp-p, 75 ohm

TIME CODE IN (BNC):

0.5 to 18 Vp-p, high-impedance

Output

CAMERA OUT (BNC):

1.0 Vp-p, 75 ohm

VIDEO OUT (BNC):

1.0 Vp-p, 75 ohm

AUDIO OUT (CH1/CH2/MIX)

(XLR, 3-pin, male):

o4 dBu, balanced, low-impedance

(CH1, CH2 or MIX selectable)

AUDIO CH1/CH2 OUT

(12-pin, multi connector)

(option):

p20 dBu, unbalanced, low-impedance

TIME CODE OUT (BNC):

1.5 Vp-p, low-impedance

PHONES (mini-jack

·2):

DC IN (XLR, 4-pin, male):

DC 11–17 V

DC OUT (4-pin):

DC 11–17 V, maximum rated current; 0.1 A

LENS (12-pin)