The Panasonic MT-M 1980 (n) is a high performance color video monitor designed specifically for use in health care facilities such as hospitals. It is easy to operate and meets or exceeds clinical requirements for safety (complies with UL medical equipment standard UL544). The MT-M 1980(n)'s high horizontal resolution of 700 lines, and a complete array of input and output terminals including RGB in/out jacks, make this monitor ideal for applications such as gastrocamera, ward and O. R. monitoring, and displaying video data on patients or clinical conditions.
High Horizontal Resolution of 700 Lines
Advanced CRT and video circuit technology allows the MT-M 1980(n) to deliver a remarkably sharp picture, with horizontal resolution exceeding 700 lines.

Overscan Function
For more detailed observation, press the over- scan button on the front of the monitor to in- crease the display size to approximately 117%.

Four Color System Compatibility
The MT-M 1980(n) detects the color system of the input signal and automatically selects the correct display mode: NTSC 3.58, NTSC 4.43 (M-NTSC), PAL, or SECAM.

Comb Filter for Detailed Images
The MT-M 1980(n) employs the same type of cornb filter found in Panasonic's video monitors for use in television studios. This results in crisp, clear outlines and natural colors down to the finest details.

Automatic White Balance Circuit
A built-in white balance circuit minimizes fluctuations in picture quality over time and provides enhanced color stability.

RGB/S-Video/Composite Signal Capability
In addition to two sets of video composite signal inputs and outputs, the MT-M 1980(n) is also equipped with a set of RGB terminals and S-Video connectors. Each input is paired with a loop-through output terminal to allow easy, sure connection of additional equipment. Line A and Line B audio input/output terminals are also provided.
Built-in speaker with 1.5W amplifier output power.
Manual degauss switch.
Front controls include: RGB contrast, aperture, contrast, brightness, phase, chroma, and volume for built-in speaker.
Rugged construction with hybrid metal cabinet.
AC cord guard keeps power cord out of the way when not in use.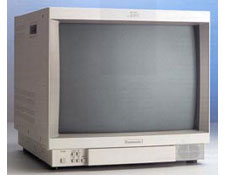 "B" stock category item. In perfect working condition, with 90 days full warranty. Comes with original box.
"B" tock means the unit works as a brand new one, but it is not being sold as new because of: missing user manual in the box, bended box, missing original box, customer ignorance, etc.