Aluminum pole mount adapter for POD-7CW, allows domes or housings to be mounted to an existing pole.
Mounts to poles 3" - 15" dia.
Durable powder coat finish
All aluminum construction
Threaded bolt inserts to make installation quicker and easier
75 lb load rating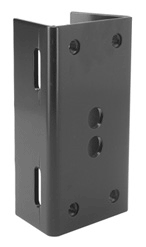 Specifications Sheet - CLICK HERE
"B" stock category item. In prefect working condition, with 90 days full warranty. Comes with original box.
"B" tock means the unit works as a brand new one, but it is not being sold as new because of: missing user manual in the box, bended box, missing original box, customer ignorance, etc.