"B" stock category, with 90 days full warranty
The new WV-CS554 color dome camera is the latest addition to Panasonic's Super DynamicII line-up. Color camera, zoom lens and Pan-Tilt mechanism are all integrated into a single, compact unit, which fits neatly inside a 110mm (4-5/16") diameter dome housing. Even in harsh lighting, the camera's 64 times dynamic range produces clear, natural images. While the combination of a 22x zoom lens and 2x electronic zoom provides 44x zoom capability; 480-line horizontal resolution ensures high image quality. Add up to eight pre-set positions. The Patrol Learn function records manual operations. There has never been a camera easier to use. A unique combination of every basic surveillance camera feature with outstanding cost performance makes the WV-CS554 ideal for a wide range of surveillance and security applications.
FEATURES:
• Built-in Super DynamicII function [has 64 times wider dynamic range when compared to a conventional camera].
• Compact ๘110mm (๘4-5/16") diameter dome-sized all-in-one color camera, for wide area surveillance applications.
• 480-line horizontal resolution.
• IP52 drip proof environmental structure.
• Min. illumination of 2 lx (0.2 fc).
• Patrol Learn function.
• Auto panning function with 8 preset positions.
• Panning speed of max. 300 degree/s at preset mode.
• 22x optical zoom lens (3.79 - 83.4mm, F1.6).
• 2x linear electronic zoom function.
• Auto focus lens.
• Multiplex-coaxial data communication with Panasonic system products.
• Alphanumeric character display.
• Optical SLIP RING System.
• Optional smoke and mirror type dome covers are available.
• 24V AC, 60Hz power source.
For more information and technical specifications please CLICK HERE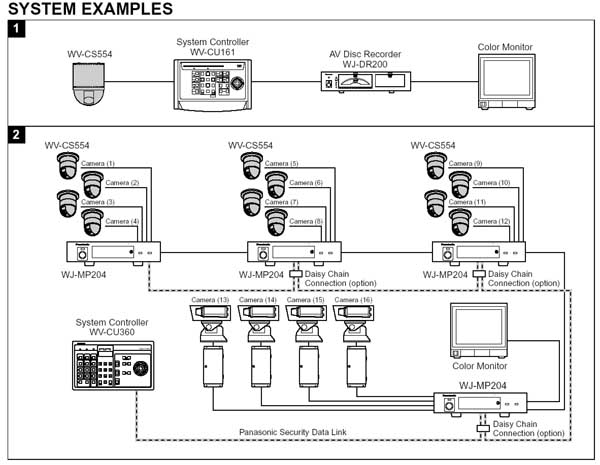 Please browse our store or contact us for additional accessories, like system controllers, time lapses, monitors, data multiplexers, video multiplexers and any other.